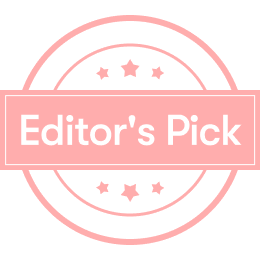 Yumei Bo Bo Chicken
The most expensive fast food I've ever bought… span>
Bought before I bought a box after reading the reviews and it was good span> As a result, I saw Gege's post😂
So I have been mentally preparing for a long time before I dare to open it (you can't throw it away
Cover👇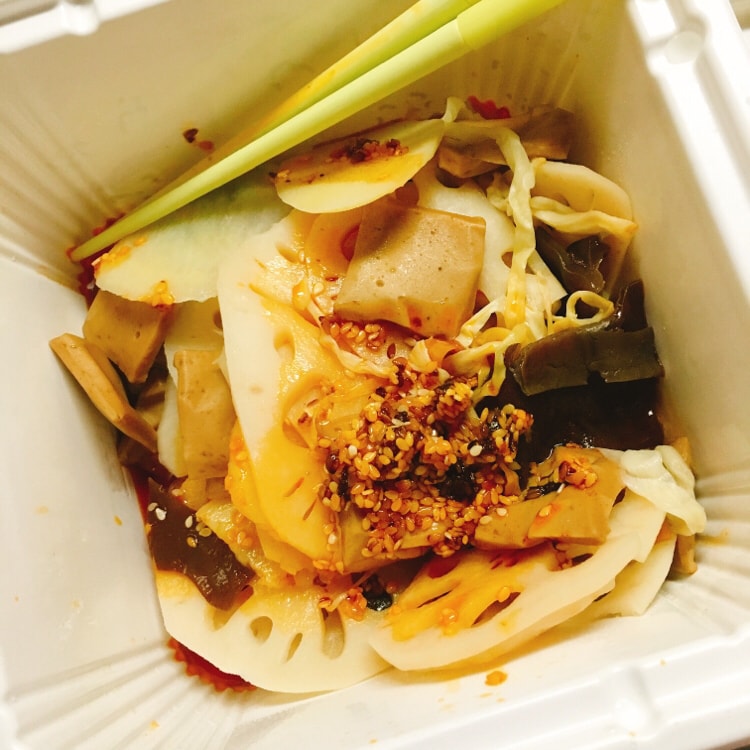 ID photo👇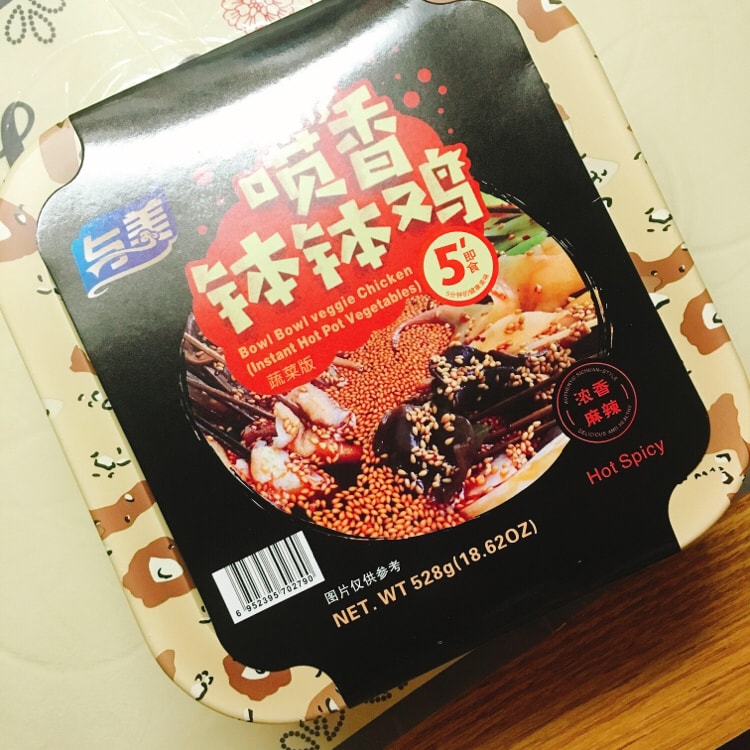 There is a hole in the lid of the box, it is estimated that it is the same box as his self-heating powder…
After opening it, I grabbed a bunch of messes from it…
Both cabbages have similar contents. The big bag is probably the vegetable bag (bamboo shoots, potatoes, lotus root, fungus, konjac, enoki mushrooms) that take off the vegetables. It's just that there is a small package in addition to this… I don't know why
A pack of dried tofu
a bag of soybeans/peas (I don't know what that is It looks almost the same after frying But it says peas on the package
A pack of dips
A pack of soup
A pack of sauces
A packet of sea cabbage (I didn't see what it was before I tore it up)
A pair of chopsticks
A wet wipe
In short, it looks very lively It is also suitable for taking out (no complaints again) Cutlery's American Cup Noodles…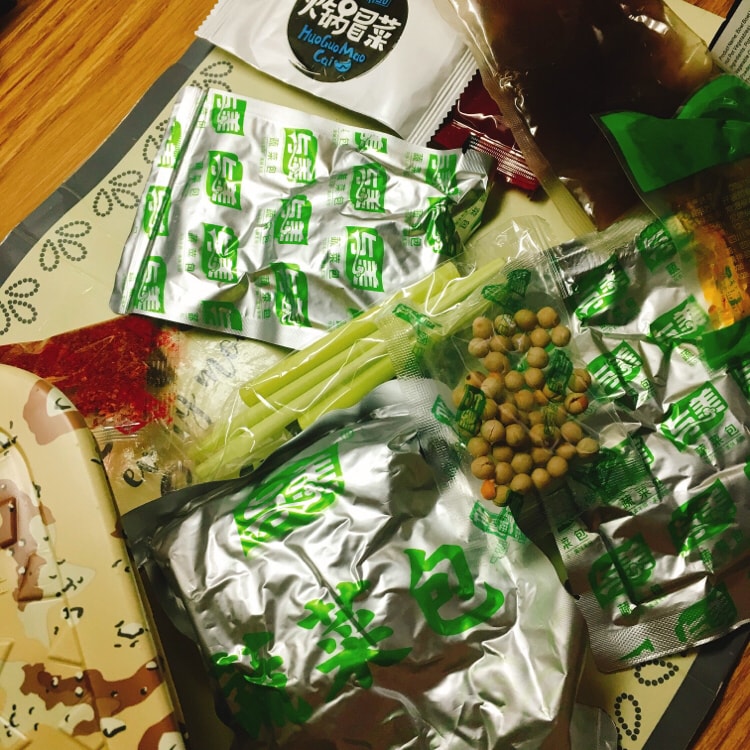 Considering everyone says that the vegetables are sour and bitter, I still soak the vegetables in boiling water for a few minutes
This vegetable bag is the same as that of Maocai, with a ham flavor😂 I guess it's preservatives+the taste of additives😂
I don't know if the hot water is useful or not, but I didn't feel any obvious sour and bitter taste when I ate it (of course, it may be that this bag just isn't bitter p>
And the hot water seems to have cooked the potatoes a little, which is more noodles than what I have eaten before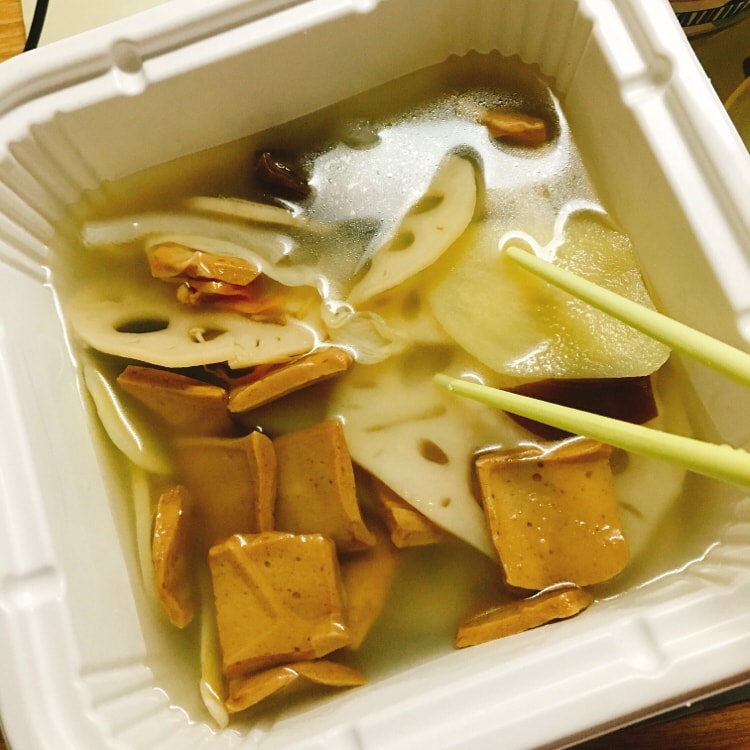 Sprinkle with sauce and soup bag after soaking.
The sauce has a lot of sesame seeds and the taste is okay. It's not as spicy as the cooking material, and the taste is so punchy. The aroma of the condiments also seems to be slightly different. But as for the taste of bobo chicken, I can't say.… I only ate bobo once in my life five years ago. Chicken, I haven't eaten much yet😂In short, I think this taste is actually good for foreigners who don't really ask for authentic ? And it's not too spicy, I thinkok
I really don't know what that soup tastes like… I dipped it in After tasting a little bit, it has taste and taste, and tasteless and tasteless… Very fantastic 😂It's just that there is some powdery sediment in it, be careful not to pour it in_(:з "∠)_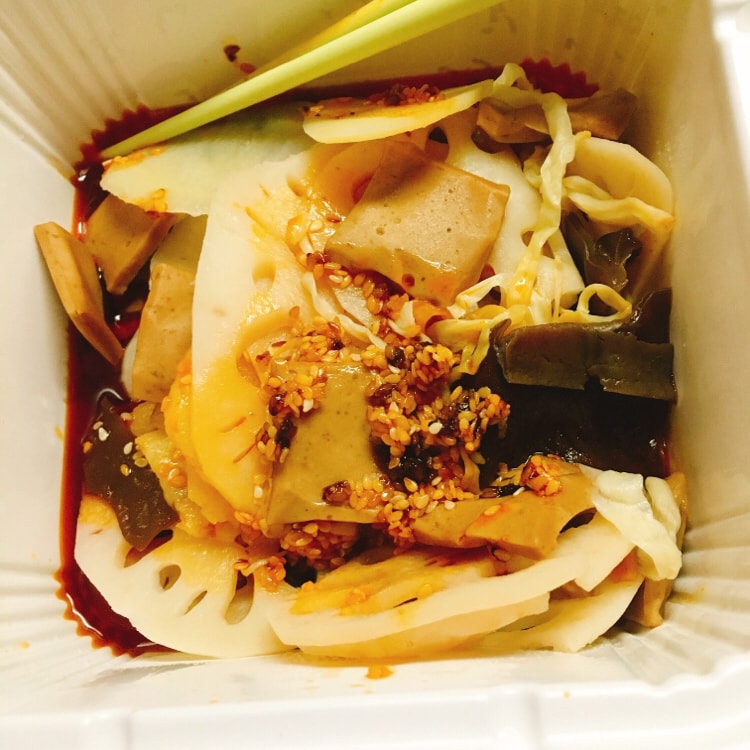 I think of beans and sea cabbage after mixing…
The beans are still very fragrant after soaking for a while And it will not hurt the cheeks< /span>… And the feeling of the douban being crispy is very cute (I want to eat the fried soybeans I ate as a child…
This sea cabbage was a surprise… I never got him The sea cabbage at home is the first time I have eaten… It is very crisp and the meat is very thick. Tasty but not too spicy (it's fine for me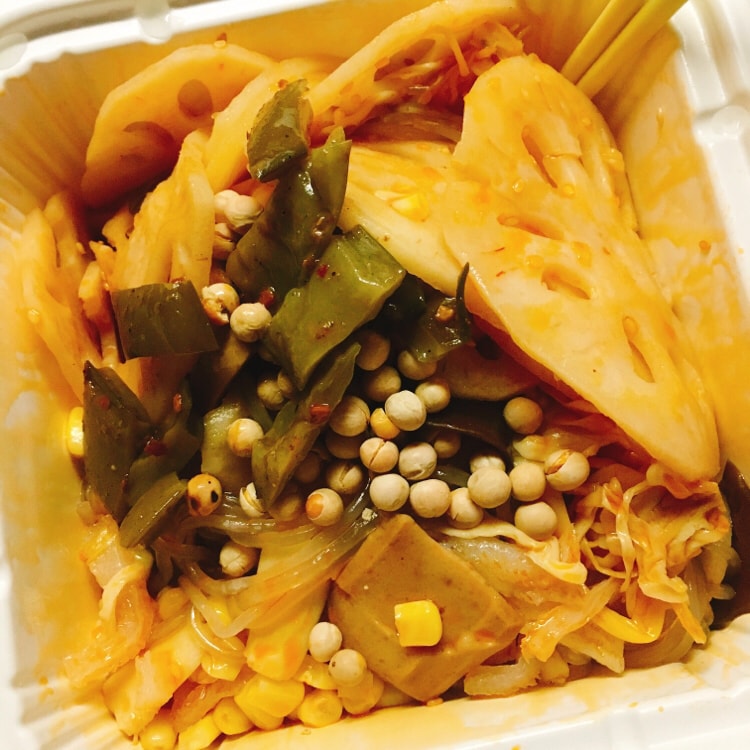 Anyway, is this Bo Bo chicken stillOK? If you still have leftovers that don't taste good, you can consider soaking them in hot water after opening the package. Maybe it will work?

Show Original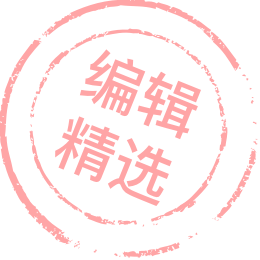 与美钵钵鸡
我目前买过单价最贵的速食… 
之前买的 看评论还不错就一样买了一盒 结果看见了格格的晒单😂
于是一直做了很久心理准备才敢打开(总不能扔了
封面👇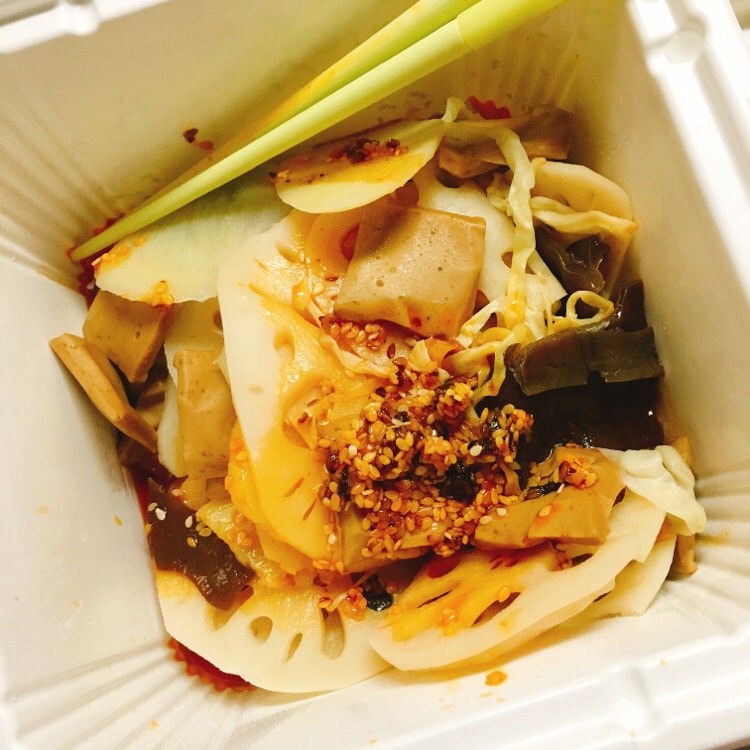 证件照👇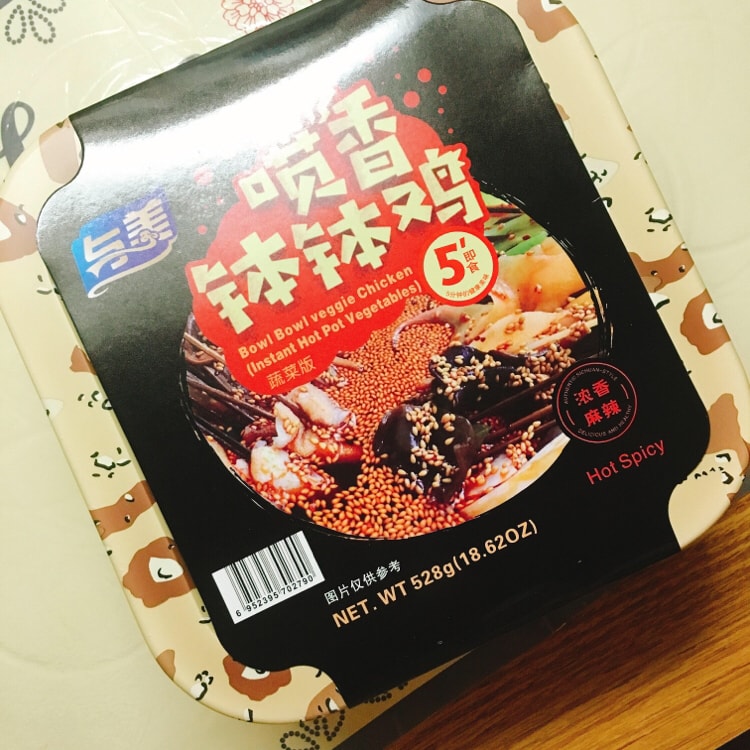 盒子盖上有个洞,估计和他家自热粉是同一款盒子…
打开之后从里面抓出一堆乱七八糟…
两包菜 内容物都差不多。大包大概就是冒菜的那个菜包(笋,土豆,藕,木耳,魔芋,金针菇)。只不过除此还有一个小包… 也不知道为啥
一包豆干
一包大豆/豌豆(我也不知道是啥 炸完长得都差不多 不过包装上写的是豌豆
一包蘸料
一包汤
一包酱料
一包海白菜(我之前都没看出是啥知道我把它撕开)
一双筷子
一个湿纸巾
总之看起来挺热闹的 也挺适合带出去(再次吐槽没有餐具的美国杯面…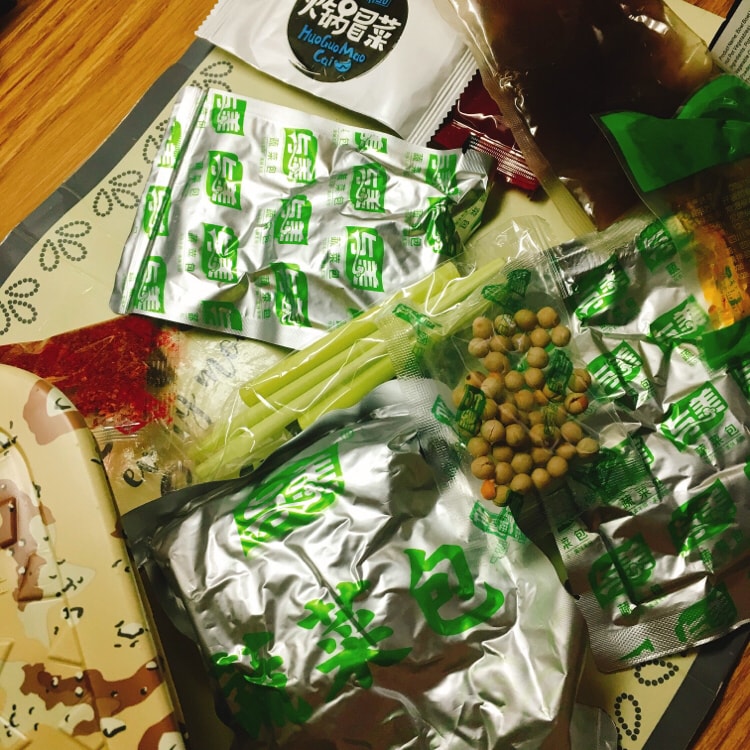 思及大家都说菜又酸又苦,我还是先把菜用开水泡了几分钟
这个菜包和冒菜的一样,一股火腿肠味😂我猜是防腐剂+添加剂的味道😂
也不知道热水到底有没有用,总之后来我吃的时候没有感觉到明显的酸苦味(当然也可能是这包恰好不苦
而且热水好像把土豆烫熟了一点,比我之前吃的更面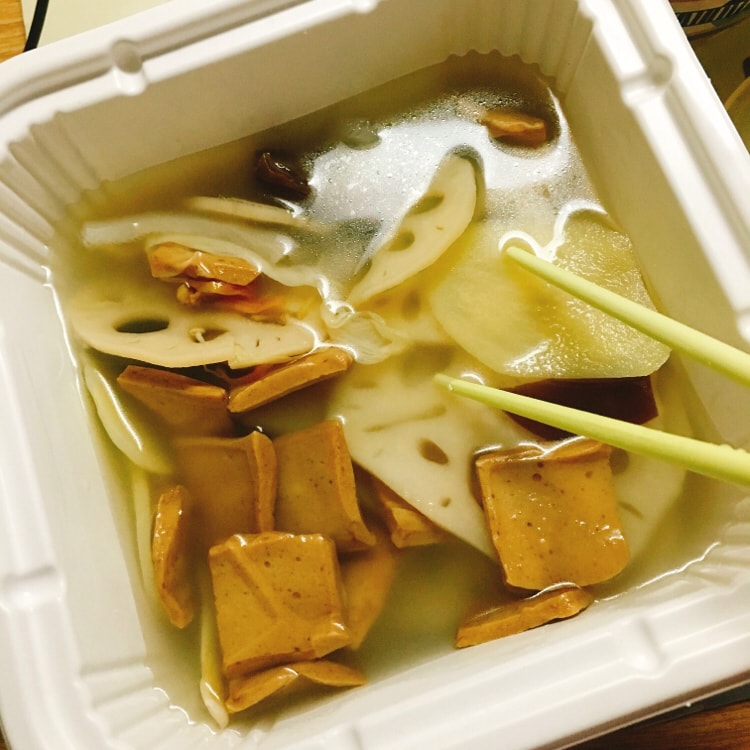 泡好后洒了酱料和汤包。
酱料里芝麻还挺多,味道也还可以。没有冒菜料那么辣,味道那么冲。佐料的香味似乎也略有不同。不过至于是不是钵钵鸡的味道这我真不好说… 平生只在五年前吃过一次钵钵鸡,还没吃多少😂总之我觉得这个味道对并不怎么要求正宗的外地人来说其实还好?而且并没有很辣,我觉得ok
那包汤我是真不知道是啥味的… 我蘸着尝了一点,要说有味也有味,要说没味也没味… 很玄幻😂只不过里面有一些粉末状沉淀要小心别倒进去_(:з」∠)_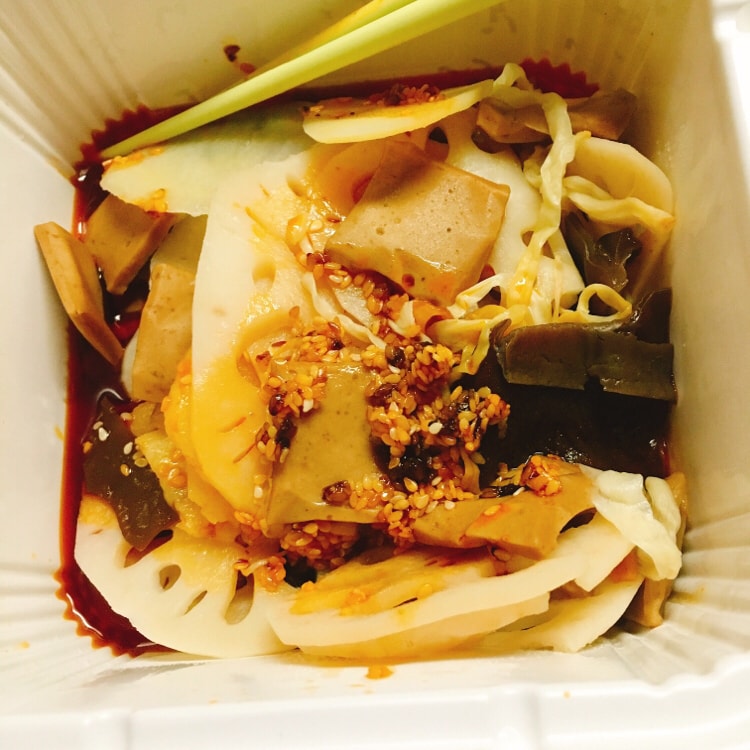 拌完之后想起来豆子和海白菜… 
豆子多泡一会还是很香的 而且不会腮帮子疼… 而且豆瓣酥掉的感觉非常可爱(想吃小时候吃过的炸黄豆了… 
这个海白菜倒是意外之喜… 我从来没抢到过他家的海白菜这倒是我第一次吃… 很脆而且肉很厚。比较入味但不是很辣(还蛮适合我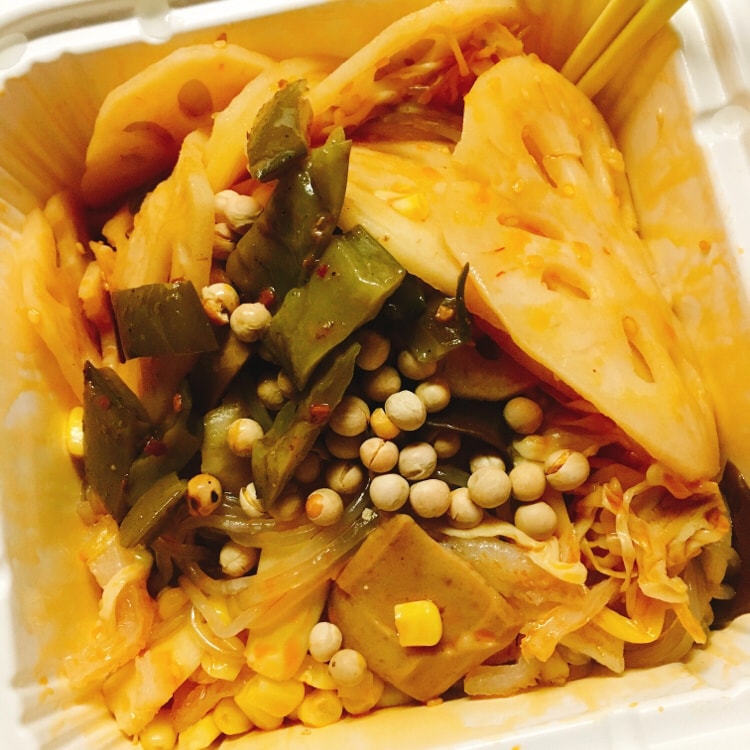 总之就是这个钵钵鸡还OK?如果手里还有剩的嫌菜不好吃可以考虑开包之后先用热水泡一下,可能会管用?